Jazz in June to feature Water For Food director
May 28th, 2014 | By
tfedderson2
| Category:
2014
,
Arts & Entertainment
,
Issue
,
May 22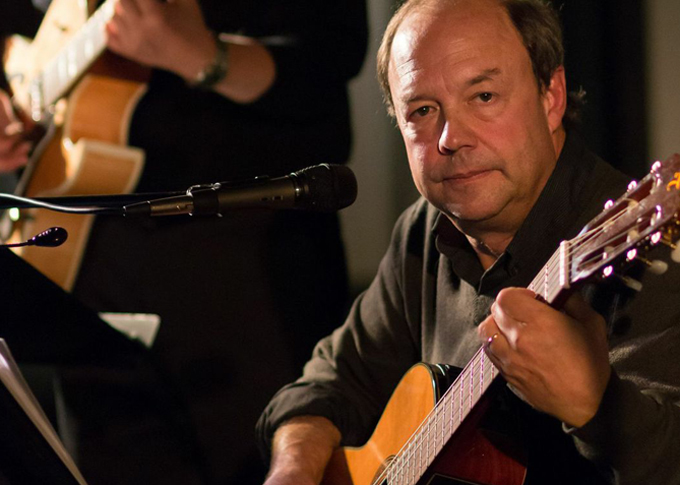 Christopher Neale, director of research for the University of Nebraska's Robert B. Daugherty Water for Food Institute, plays guitar for the bossa nova group Evening in Brazil. The group opens Jazz in June on June 3. (Courtesy photo)
---
Christopher Neale has found balance through the rhythmic guitar beats of bossa nova.
Neale, director of research for the University of Nebraska's Robert B. Daugherty Water for Food Institute, is a member of Evening in Brazil, the bossa nova and jazz band that opens the 23rd season of Jazz in June on June 3. The group debuted in 2009 at Utah State University, where Neale worked previously as a professor of irrigation engineering.
"For me personally, after getting back into music, the last five years have been my most productive scientifically," said Neale. "It's been great in terms of publications and productivity on the science side. It might be a coincidence, but I credit that success to my renewed relationship with music.
"Playing in this band helped me find a balance between work, family and play."
Urged on by his parents, Neale started learning classical guitar as a child growing up in Brazil. He tried to stop around age 13, but kept at it after changing teachers and forming a rock band with a friend. Neale's study led to a classical guitar diploma and an undergraduate degree in civil engineering.
While in graduate school at Colorado State University studying irrigation, Neale played with a Latin American group and branched out into offering private guitar lessons.
"I enjoyed teaching, but found it was impossible to handle graduate studies and teaching guitar," Neale said. "After I got into being a professor, I really abandoned playing music all together."
He would return to the instrument about 20 years later.
While working at Utah State, Neale became friend with fellow faculty Mike Christiansen and freelance musician Eric Nelson. The two played together as the Lightwood Duo and were often booked to provide music for social events on campus.
In the mid 2000s, a secretary asked Neale if he knew anyone who could provide entertainment for a college Christmas party. He suggested Christiansen and Nelson.
"When I talked with them about the party, they asked if I was interested in playing two or three bossa nova songs with them," Neale said. "I agreed and it was a blast. We came away with a desire to keep playing."
The opportunity resurfaced in 2008. Christiansen, who had returned from studying guitar in Brazil, told Neale that a Brazilian student had enrolled to study voice at Utah State. The two contacted the freshman student, Linda Linford, to gauge her interest in performing in a bossa nova group.
"Linda was familiar with the songs and she was interested in working with us," Neale said. "After she tried out, we decided that it might work and started practicing a few songs."
Christiansen and Nelson brought in a few colleagues and Evening in Brazil was formed. The group practiced from January to April 2009, and played in a semester-ending concert.
"Our first gig was in the Performance hall at Utah State and was quite well attended," Neale said. "We had so much fun, we decided to do it again the following year. That concert packed the Performance hall."
Members include Neale on acoustic guitar, Christiansen on electric guitar, Nelson on saxophone, Linford on vocals, Lars Yorgason on bass, and Don Keipp and Travis Taylor on percussion.
Since forming in 2009, Evening in Brazil has played 12 gigs in Utah. In recent years, the group has averaged three performances per year.
Jazz in June will be the group's first performance outside of Utah. The concert is part of a series of campus events celebrating Brazilian students who are studying at UNL through the Science Without Borders program.
Neale suggested hiring Evening in Brazil after hearing through the campus grapevine that event organizers hoped to sign a Brazilian group for the annual concert series.
"I figured we already play the traditional bossa nova songs and that we would be a lot easier to get than some big name group from Brazil," Neale said. "Our band's bio and the caliber of musicians in the group led to the invitation. We are all excited about this performance and are ready to go."
Neale said the group will play a set that features classic bossa nova songs intertwined with newer Brazilian music and Afro sambas.
"The band is really excited for this opportunity," Neale said. "It's going to be a great concert.
"And I look forward to performing in front of colleagues here at the University of Nebraska. I love what I do here at the Water for Food Institute, but it's nice to show people that I'm more than just this irrigation research guy."
Troy Fedderson | University Communications