Project pairs research, modern technology to bring forgotten cemetery stories to life
Dec 13th, 2012 | By
tfedderson2
| Category:
2012
,
Campus News
,
Dec. 13
,
Issue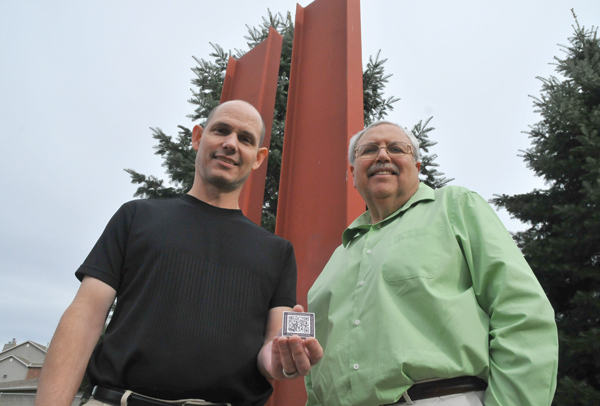 (From left) Randy Kassebaum, a Lincoln businessman, holds a ceramic QR Code that graduate students in Bill Lopez's class are using to make family histories available electronically to visitors to Wyuka Cemetery. Lopez tested the technology on three Wyuka sites, including the 9/11 memorial in the background, before introducing the project to UNL students. Photo by Troy Fedderson|University Communications

Graduate students led by Bill Lopez are taking modern technology to the grave.
After guiding classes on tours through Lincoln's Wyuka Cemetery for more than 15 years, Lopez and students in the Master's of Elementary Teaching program have researched the history of select graves and made that information available electronically. The information is accessed online through Electronic Quick Response Codes posted at Wyuka and a smartphone.
"What I've always wanted to do was start getting the students involved and finding information on the historic graves at Wyuka," said Lopez, an associate professor of practice in Teaching, Learning and Teacher Education. "That got me thinking. Then I started talking to a guy I know who has a business here in town. I asked him about doing something to show off the students' work online."
The "guy" is Randy Kassebaum, who has developed the technology to imprint QR Codes on long-lasting ceramic blocks. Lopez and Kassebaum had partnered on three similar projects at Wyuka — the 9/11 Memorial; serial killer Charles Starkweather; and Walter Dameron, who was killed in a head-on train collision in 1911 in western Nebraska.
"Those projects gave me the impetus to say, 'OK, this is doable," said Lopez. "So, I decided to pilot the idea in this graduate level course. I told the students about the idea and they bought in."
Lopez took the students on his standard tour, though this time the teacher held back a few facts. Paired into teams of two, the students selected graves that interested them and went to work on the research.
"I let the stones talk to them," said Lopez. "It was interesting because I thought the students would pick more grandiose things. Several of them decided that meant the family had money and in death they continued to show off. The students decided those families had enough exposure and selected more common people.
"That surprised me in a good way."
One of the student teams — Katie Mohr-Wassinger and Heather Harris, both graduate students in elementary education — selected the graves of the Walton family.
"During the tour, we noticed six of them died in 1882 and professor Lopez gave a hint that they died of diphtheria," said Harris. "That was true, but it only got worse from there."
Searching through census records, newspaper clippings, the Nebraska State Historical Society archives and myancestry.com, they learned that the Walton family had nine children, six of whom died in 1882. In 1891, the mother died three days after living through a gas-stove fire.
The story continued to see the father remarried, divorced and institutionalized. The remaining three siblings also died — two by suicide.
The father, a wealthy property owner, remarried and was quickly divorced.
"We couldn't believe how far it just kept going, one thing after another," said Mohr-Wassinger. "It really says something about how mental health can be genetic."
Kassebaum met with the students throughout the project, providing web design guidance.
"I think a project like this is definitely something I plan to do in my own classroom some day," said Courtney Breitkreutz, a graduate student in elementary education. "It's a project that's not just for a teacher to read and throw away. To put it online and provide historic information to the public serves a greater purpose. And, it's also something that students can get excited about."
While he plans to continue to have graduate students research Wyuka graves, Lopez may also see the project expand in the future.
"We are already in talks with the Nebraska Historical Society about putting QR Codes on every roadside historical marker in the state. There are about 500 of them," Lopez said. "And there is an interest in putting QR Codes on the busts in the Nebraska capitol's Hall of Fame."
Lopez also believes Nebraska school teachers may be interested in adopting small rural cemeteries and developing a similar QR Code project.
"I could also see it used for historic buildings," said Lopez. "It's mind boggling when you sit down and think where this simple project could go."
Four of the graduate student history projects for Wyuka Cemetery are available at: http://waltonfamily.name; http://corelsherwood.com; http://www.hathawayfamily.info; and
http://www.robertallington.com.