Bales finds needed outlet as UNL bus driver
Dec 13th, 2012 | By
tfedderson2
| Category:
2012
,
Dec. 13
,
Employee News
,
Issue
Eight years ago, Linda Bales needed an escape.
Having relocated to Nebraska, Bales spent her days caring for a mother-in-law who suffered a series of strokes and a retired-military husband hampered by alcoholism.
"That kind of care, 24 hours a day, seven days a week, it weighs on you," Bales said. "I really needed something outside the house. More for my mental health than my physical health."
Then a friend mentioned a possible job driving a bus around UNL. Bales had maintained her CDL after driving a tour bus on the East Coast and a school bus at Fort Bragg. Shuttling students, faculty and staff between UNL's City and East campuses sounded pretty good. She jumped at the opportunity.
"I applied for the job because I really needed something," Bales said. "And because of the university students. I knew they all had these wonderful goals, dreams and ideas. That was something I really needed to be around — even if it was only for a few hours a day."
She started as one of Transit Services' on-call drivers. The hours varied, but that was OK.
"Sometimes I was here first thing in the morning. Other times I came in late at night. Whatever was needed I was there," Bales said. "The time didn't matter to me. Just getting out helped so much. It kept me from self-imploding.
"I don't have the words to explain how much this job helped me."
And Bales has worked hard to give back to the university.
Driving the intercampus bus route, Bales welcomes passengers with a smile and a warm greeting at every stop. As passengers depart, she wishes each a great day. During Halloween, Bales makes popcorn balls for her passengers. At Christmas time, she bakes cookies and hands them out.
She's also quick to strike up conversation — especially with students.
"The students are what I've enjoyed the most over the years," said Bales. "They come in as freshmen with all these high school ideas and everything. Then by Christmas, they change, become more serious as the reality of becoming an adult influences them."
One of her favorite things is to discuss recipes — particularly with international students, faculty and staff. If she doesn't know the recipe, Bales will track it down.
"I've exchanged a whole bunch of recipes through the years, from way back in our military days through today," said Bales. "I have a 16 gigabyte flashdrive at home that is full of nothing but recipes. And very few of them are American dishes."
In March, Bales would have worked at UNL for eight years. However, she is one of four intercampus bus drivers losing jobs as UNL transfers route management to StarTran (read more here). Now, she is eight days away from her last shift on campus.
Bales has a hard time talking about the change. She expects to be lost for a few days after it happens and might even come back and deliver baked goods to her bosses (who she still adores). But Bales is not bitter. Instead, she's eager to move on to her next stage of life.
"I keep telling my brothers and sisters that I'm retiring," Bales said. "They just laugh at me."
Bales and her husband plan to venture to Kentucky in April in a travel trailer and manage a campground. Bales also plans to learn everything she can about community food distribution networks in the region.
She said those networks are special in that they often distribute fresh fruits and vegetables to those in need. And, when Bales returns back to Nebraska, she hopes to take those lessons and implement them here — possibly out in the more rural areas of western Nebraska.
"I'm also writing up a presentation to establish a senior citizen calling tree here in Nebraska," said Bales. "That is something they have in North Carolina and it's a great way for senior citizens who are home alone to develop phone friendships while also checking up on each other.
"It's a very cheap way to keep seniors involved with each other."
But, before she can move forward with those projects, Bales still has a job to do. And it's one she's going to enjoy right up to that final route on Dec. 21.
"This job has always been fun and I've learned far more from the students than they could ever learn from me," said Bales. "You know, I never had a reason to come down here before I came to work for the university. Now, this place is something I'm going to miss very much."

— Troy Fedderson, University Communications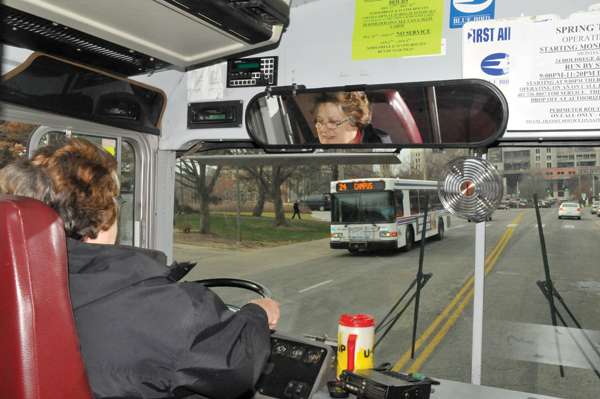 Linda Bales, a driver with Parking and Transit Services, drives UNL's intercampus bus route on Dec. 7. StarTran will take over the route on Jan. 2. Photo by Troy Fedderson | University Communications